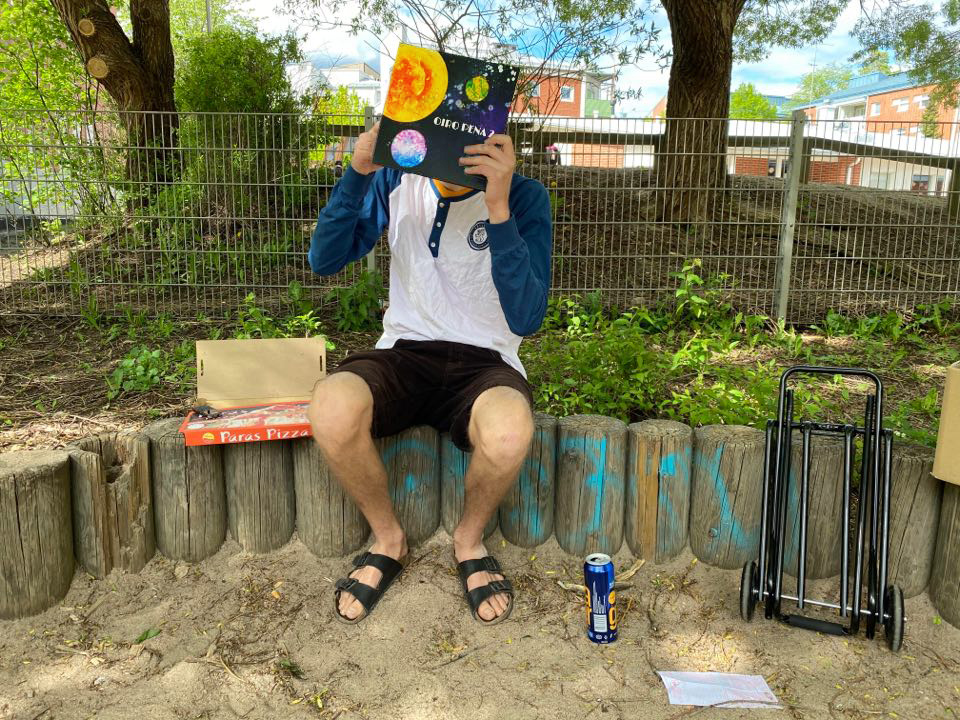 We meet the mysterious multi-instrumentalist from Oiro Pena and saxophonist in Soft Power, Antti Vauhkonen. Oiro Pena's second 10inch release is now in shops. We asked a few questions about his inspirations, musical background, and plans for the band.
When did Oiro Pena start?

Yeah, it was just Aleksi Tanhuala (the drummer) that came up with this name, he just started calling me Oiro Pena, that was it, Oiro Pena is something I do by myself and then it became a band after the first 10-inch.
How was your background, have you gone to any school in music?

Yeah when I was kid I started playing piano when I was 6, then drums, then guitar, then I got tired with studying, just started jamming and experimenting with friends. Went to Tapiola music school in Espoo.
What kind of music did you start out with?
I made electronic music for 10 years, quite intensively, I began doing that around 2006-2007 and then started gigging in 2011, the genre was Suomisaundi (Finnish psychedelic trance music in weird style, bands like Texas Faggott, Squaremeet are originators) it's a bit like krautrock but trance. I made music like that.
So there are some element of this in Oiro Pena music?
I don't know, this is a part of me, part of my sound, so in some way, it has some influence.
So when did you swich over to more organic music/jazzier sound, did you have an epiphany at some point?
It came from krautrock first, I started listening to CAN, and searched through all the psychedelic german rock bands. There was a lot of jazzier elements there, horns and saxophones, I think it came from there, and then I found Miles Davis and John Coltrane. But at first, I didn't like Miles Davis, I could not understand what was so fantastic about him, but then … I heard his live at Fillmore East record from San Fransisco (Columbia Records, 1970) wich had a more rock sound, and that I liked, the whole listening experience of this record was kind of the passage into jazz for me.

How did you come to make the first Oiro Pena 10 inch, that's you on all the instruments?
It's just me at my home, with overdub, overdub, and overdub, on the first 10- inch I also looped a-bit, I started with piano first, and then I could not play the piano part through the whole song, so I looped it, but you cannot hear it, or I don't think you can, because of the other instruments on top. It's just like that, usually, I start with the piano.
Is flute your favorite instrument, there seems to be a lot of it on the Oiro Pena releases?
I think my favorite instrument is drums actually, but there are limitations with melodic expressions, if you want to provide melody then you're kinda limited the drumsticks. I dig drums, flutes, and saxophones. There are so many fantastic instruments to explore in the world.
So you would call yourself a multi-instrumentalist, you don't have a plan to become good on one instrument?
No, take saxophone for instance, when I listen to whoever saxophonist, I realize I will never be able to reach their skills, I don't have the time nor motivation. I've never been that kind of person that just pick one thing, I have to do other stuff as well.
I also think it's really weird to compare players, this is better, that is better etc. the main thing is feeling and expression, the whole vibe, that's what relevant to me, not necessarily kills or technique.
What kind of music do you listen to now?
Mostly spiritual jazz, a lot of Coltrane. I love John Coltrane. And now I started listening to the early Sun Ra material (surprised that people are comparing Oiro Pena to Sun Ra), not so much the newer stuff, it's too free. It's nice to play this kind of music oneself, and when it's in a live setting it's nice to be audience to but on record, nah…
Let's talk about your next release Oiro Pena Jani a full long player lp. A quartet session. Fully improvised?
Yeah, it's free improvisation, it was a nice session. A jam basically, and then we find the groove, and continue on…I like it, I listen to it now and again, and it's nice.
What's next for Oiro Pena?
We have some new songs for the trio, or quartet, Aleksi (the drummer) he had this idea of Oirolan suku, wich means the Oiro Pena family, a bigger band, maybe with a harmonica, violin, gonna look into that. Aleksi comes up with these weird and funny ideas, he's a creative dude, and we all dig his ideas.
I'm very grateful to my bandmates: Johannes, Keijo and Joona. I hope we will make lot of music together in the future.
And also thanks to Arsi Keva for making the first recording happening and everybody else involved.